"nunca é tarde" - "it is never too late" - the new CD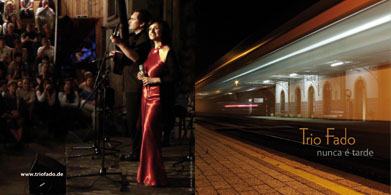 named after the song made by Trio Fado for the film "night train to Lisbon"
(Text and voice-Maria Carvalho)





The CD kann be ordered , like the first two, through our website under "Musik" , onlineshop or at the shops in Berlin and through out Germany.


Buy The CD Trio Fado - "nunca é tarde" ONLINE



Trio Fado
If you look at ethnic music to discover the expression of the Portuguese people, Fado is the first thing you find. It's urban and emotional music that is rich in melancholic components.

Fado, which was born in the heart of the old city of Lisbon, is the voice that expresses the feelings growing from the everyday struggle: joy, sadness, pain, love and jealousy. However, Fado does not just portray personal feelings it also reflects on events of social relevance. Fado is a spontaneous manifestation.

In the 19th century, aristocrats used to like going down to the narrow streets where the simple people lived to hear Fado because they were thrilled by its exotic flair.

The Portuguese guitar is the instrument that symbolizes Fado. A 12 string guitar that seams to weep with the voice of the singer.

Trio Fado play this music with emotion. They balance the original form of Fado with their musical feeling and experience, which reflects the change of times. They formed in Berlin but now enjoy a great following in Switzerland, Austria, Luxembourg, Italy and Russia.

Originally, Trio Fado consisted of the strong and smoky voice of António de Brito, complemented by the contrasting soft and clear voice of Maria Carvalho, and the Portuguese guitar played by Daniel Pircher

The Trio now has four members! Benjamin Walbrodt with his cello is now a permanent member of the group, giving Trio Fado a classical note.







On their first CD, "Com que voz",
Trio Fado play their own arrangements
of well known fados from different epochs.







Their 2nd CD, "portolisboa" features more of their own lyrics and musical compositions combined with traditional fados. In addition to the cello, Trio Fado try something a little new and different by featuring an accordion.






CDs

this website has informations about the Concerts of Trio Fado, musicians, etc.